Thank you very much Visitors Readers and Patrons!

On this day I would like to thank all my dear viewers, readers, followers, and partons of my Blog -

Vegetable and Fruit Carvings

for their unstinted support, guidance, comments and suggestions which has made my blog stand out amongst the others. I am proud to say that because of your patronage and liking to my blog the Blog has crossed a Viership of more than 100,000 views by visitors as on today. I have placed here below the Flag and Visitor counter which shows the fantastic support you have given me. As you will see that visitors from more than 179 Listed Countries have visited my blog and it is only because of your love and support that I have achieved this distinction.
My visitors and readers have always been a source of inspiration and guidance for me, and we share a special bonding. It is because of your constant guidance, ideas and comments that I have tried to publish better and new articles on Vegetable and Fruit Carvings on my Blog, and I will continue to do so. What better a New year Gift can I ask for that my patrons love my work and blog so much. I solicit your continued love and partronage and assure you that I will strive to publish newer and better content in future!
This is the Visitors Counters that shows up on my blog on the right hand side, which I have posted here again for your benefit. If you click on the bottom of the Visitors counter where it says Flag Counter it will take you to the page where it shows how many visitors from so many different countries have visited my blog for which I am very thankfull. This is a big achievement for me because of your constant support and patronage, and I will strive to reach out to more people with more articles of their choice!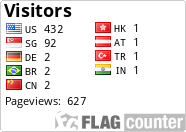 Once again a very big thank you and wishing you all a Merry Christmas and a Happy and Prosperous new year!